Varrock Restoration RuneLabs idea
First and foremost, if you like the idea, please show your support so it can gain some sort of traction!
So, as I said, I've been to Varrock through most of my F2P career, and some of my P2P career. Though, since many members are now used to cities such as Priffdinas, places like Varrock become an eyesore so to speak.
I went to Varrock for a few quests that I had to do, and walking around looking at it wasn't really the best thing in the world. Now, if a city like Varrock hosts the first Grand Exchange (and the only GE available for F2P), the Varrock Museum, as well as a mighty castle that houses King Roald and co, why not try to renovate Varrock a little bit, so it's more appealing in general, looks like a city that can house the GE and look like a city that belongs to royalty?
So the actual idea was to house it around a Christmas event where King Roald dresses up as Santa, and is in a particular giving mood. He wants to give back to the people of Varrock, and the World Guardian wants to help the King give back as well (even though the player has saved Varrock countless of times...).
But since the season of giving is upon us, the World Guardian figures one small favor more couldn't hurt them, right?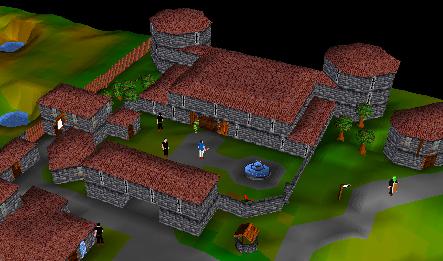 It would work like the Dukes Dilemma did during the Battle of Lumbridge. Each week (or day), using Varrocks money (which is hopefully far greater in amount than Lumbridge) to renovate and revamp the city. There would be 4 options to choose from, and players would cast a vote as to which option would be better for Varrock and whichever option has the most votes wins, and gets made accordingly.
If there's 5M coins in the coffers:
Option A would be to improve the guard's armor for 200k DS Gold
Option B would be to renovate Horvik's shop for 200k DS Gold
Option C would be to buy a surplus in food for 100k DS Gold
Option D would be to renovate the houses for 350k DS Gold
And whichever option wins the vote would get done for the week, and it would keep going for a few weeks with some options recurring and one option added on in place of the missing one. Since it's a Christmas event, players can help out by doing oddjobs for people like Roald by delivering a present to his wife, or helping the average citizen out by patching their wall up or something. Since Christmas is the giving season, if you give, they'll give back. The higher up in society they are, the greater the reward.
The oddjobs would be limited to 5 a day, with one or two greater rewards (so helping Rovin and Roald would count as 2 higher rewards, whereas helping people like the barman in the Blue Moon Inn or the Weapons Shop owner count for normal rewards).
The World Guardian and King Roald's efforts would be shown on the weekly basis, with NPCs like builders(?) who are probably just men with hammers helping out trying to fix things. At the end of the Christmas event, the final, revamped Varrock should be shown.
Of course, it's not going to be on the level of Falador or Priffdinas, who are arguably in a league of their own in terms of cleanliness and architecture.
By the end of it, Varrock should look like it's in a better state than it is already, with most houses missing a roof (one with a bed on the top floor, but no roof..) no longer being a thing. The final, finished Varrock would be available by the time the Christmas event finishes.
The idea here is just for people to not have to pass a Varrock that looks dead, and is a nicer place for F2P players to hang out, as well as P2P players who need it for quests, roleplay and so forth.
Remember, all of this is hypothetical
So it can be subject to change!
Overall, I think the general idea is just to get Varrock not looking like a city that's reminiscent of slums (if you just look at the back streets) and the revamp is designed to somewhat make the city look like as if it's actually under the rule of Roald and he's just not a poster boy.
Hey, he could be, but still.
The event is designed to help the Varrock people, help King Roald, and in turn they help you out by giving you rewards, which could be bonus XP stars, lamps, or coupons redeemable for Christmas emotes or attire. The rewards may vary depending on the person, or whatever is decided upon.
Overall, you help Roald by doing one small favor and help the people around who have called on your help time and time again, and they each show their appreciation. It's Christmas, the time for giving, and in the end everyone gives to each other. Roald gives to his people, gives to you at the end of the event (and during if the coupon for costumes/emotes thing is implemented) and the people give to you as you give to them. Most of all, we all give back to all of the players, both F2P and P2P as we seek to restore Varrock back to a state where it can be a city full of pride once again.
I mean hey, wouldn't it be nice if the Varrock Museum was surrounded by nicer architecture, the economic hub of the Grand Exchange was situated in a city that looked decent enough, the King and Queen looked like they cared about their subjects, the guards look like they can hold their own in a fight..?