The RuneScape Camel Warriors - Legacy
A runescape player question:
I want an explanation as to why the weakness of this monsters is by far one of the worst ways to kill them. I have nearly maxed gear in every single slot available using prayer, potions, rocktail soups etc etc i have tried many different amours including malevolent, trova, pernix, tectonic whatever. I have utilized special attacks from god swords to stat. warhammer, nox scythe, d claws, whatever everything on legacy is useless and armor is useless when combating camel warriors on legacy! its almost stupid... i get a few kills a trip like 4,5? seriously? w a pack yak of soups.. every 2 seconds my prayer goes from 99 to 200 then by the time u restore prayer u have to eat.. its stupid wtf is going on legacy should be taken into consideration a little bit if your going to include it in the game right?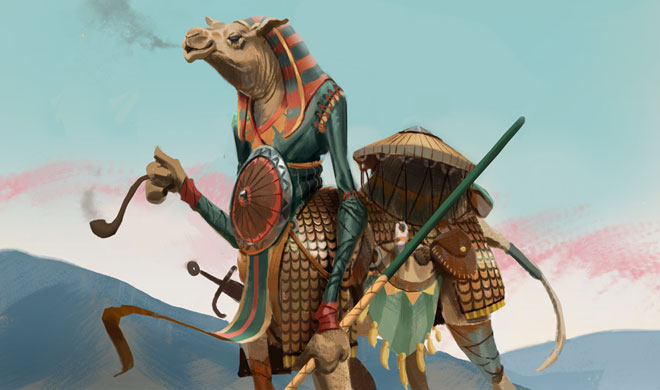 A runescape player Some suggestions:
People are going to rag me about these, but hey, guess what they might work. Idk how effective they'll be in Legacy mode since most of these are off the top of my head, but oh well. In no particular order:
1. Why is your prayer going down so fast? Use a Penance aura and you'll be set for a full hour (or two).
2. Please be using Drygore Maces at least, don't say Superior Kyzag, Chaotic Maul, Goliath Gloves, etc. I think 2h's are generally better for burst damage in Legacy, but this is going to be a slightly prolonged fight. Also, you'll need that accuracy buff.
3. They're mage based, so even though they're weak to Crush/Melee you should be able to use Range effectively if you want to do so (Nox or Ascensions no t80 poop).
4. Use an Amulet of Souls no matter what. Whether you feel comfortable Soul Splitting (idk if you can with Legacy dps), or Deflect/Protect Magic the boosts the amulet apply to either route will help a lot.
5. Spice it up with things like Disruption Shield and Vengeance.
6. You shouldn't need more than sharks to heal. Just use those, to cut back costs, and bank more frequently.
7. Supreme Overloads would be nice. Use normal Overloads if necessary, and remember to use Turmoil if using melee.
8. Use tank armor. Superior PoP/Achto Raids for the damage reduction they give. You've already told us power armor isn't working for you.
9. Scrimshaw of Vampyrism will likely be a must for you.
10. Finally, have a plan for killing them. I.e. Shadow > Blood > Smoke. Probably Blood first since you'll have a harder time out dpsing its heal in Legacy mode.
P.S. Statius's Warhammer special is bugged right now iirc.