The Heart is Comatosed Tumeken
Tumeken, sometimes referred to in Menaphite texts as the Lord of Light and the God of the Sun, is the god of light, the husband of Elidinis, the father of Icthlarin and Amascut, one of the four major gods of the Menaphite Pantheon and co-founder of Kharidian. He is also responsible for using a piece of his essence to create the four minor gods of the pantheon, Het, Crondis, Apmeken, and Scabaras. Because of this, Tumeken is directly or indirectly responsible for creating a majority of the desert pantheon and can be seen as its leader, though he has not been active since the Second Age.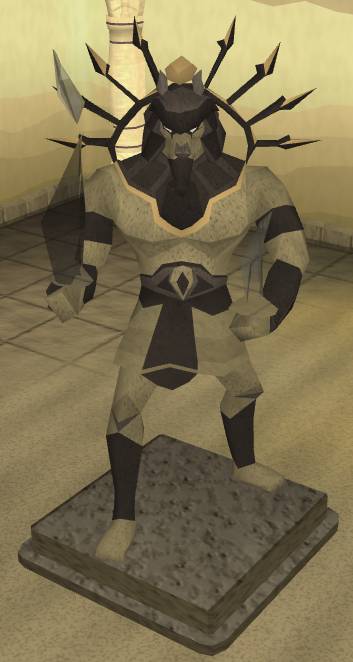 Tumeken was said to be a dreamer, an idealist who was quick to turn away from problems. As the creator of much of the desert gods, Tumeken has been heavily mythologized by the Menaphites, making finding accurate statements regarding his character or history difficult. As he was mostly a regional god who did not interact much with surrounding territories and disappeared early in the Second Age, there is little to no information about him in other countries. A popular tale that is available about the god is Tumeken's dream, a Menaphite legend about the creation of the lesser gods, though the accuracy of the tale is dubious. Reldo, the scholar who translated the text suggests the tale exists to pass on Menaphosian beliefs rather than being an historic document.
• Jagex says they have room for extra content if God Wars 2 Dungeon becomes popular enough. (Such as a 5th faction, like in GWD...)
• Outside of the dungeon is the Encampment, and on top of each of the four pillar is the symbol of Tumeken in green, which much signifies that whatever is buried underneath is Desert Pantheon lore-related.
• Icthlarin, Tumeken's son, says his father is sleeping under the sands of the desert after all, after his kamikaze stunt back during the Zarosian-Kharidian Campaign.
• The Heart is said to be an extremely huge anima/divine energy source. It's so huge that many factions want it. I can only think of one kind of thing that gives off that much strong energy: A GOD'S ENERGY! What if this huge energy is actually Tumeken himself? WHAT IF, this was where he imploded and went to sleep?! This location was marked off by four ominous pillars bearing Tumeken's symbol and buried before it was excavated by the other factions, meaning the desert pantheons knew what was buried there before any of the others gods did. What if whatever was buried there IS Tumeken?! Why else would they build four pillars at that spot for no reason?