Runescape Invention Perk Changes and Buffs
The Absorbative perk no longer uses the 30 seconds of charge.
The Biting perk critical hit chance has been increased from +1% per rank to +2% per rank.
The Brief Respite perk now reduces healing by 1% (down from 3%) and reduces the ability's cooldown by 5% (up from 3%).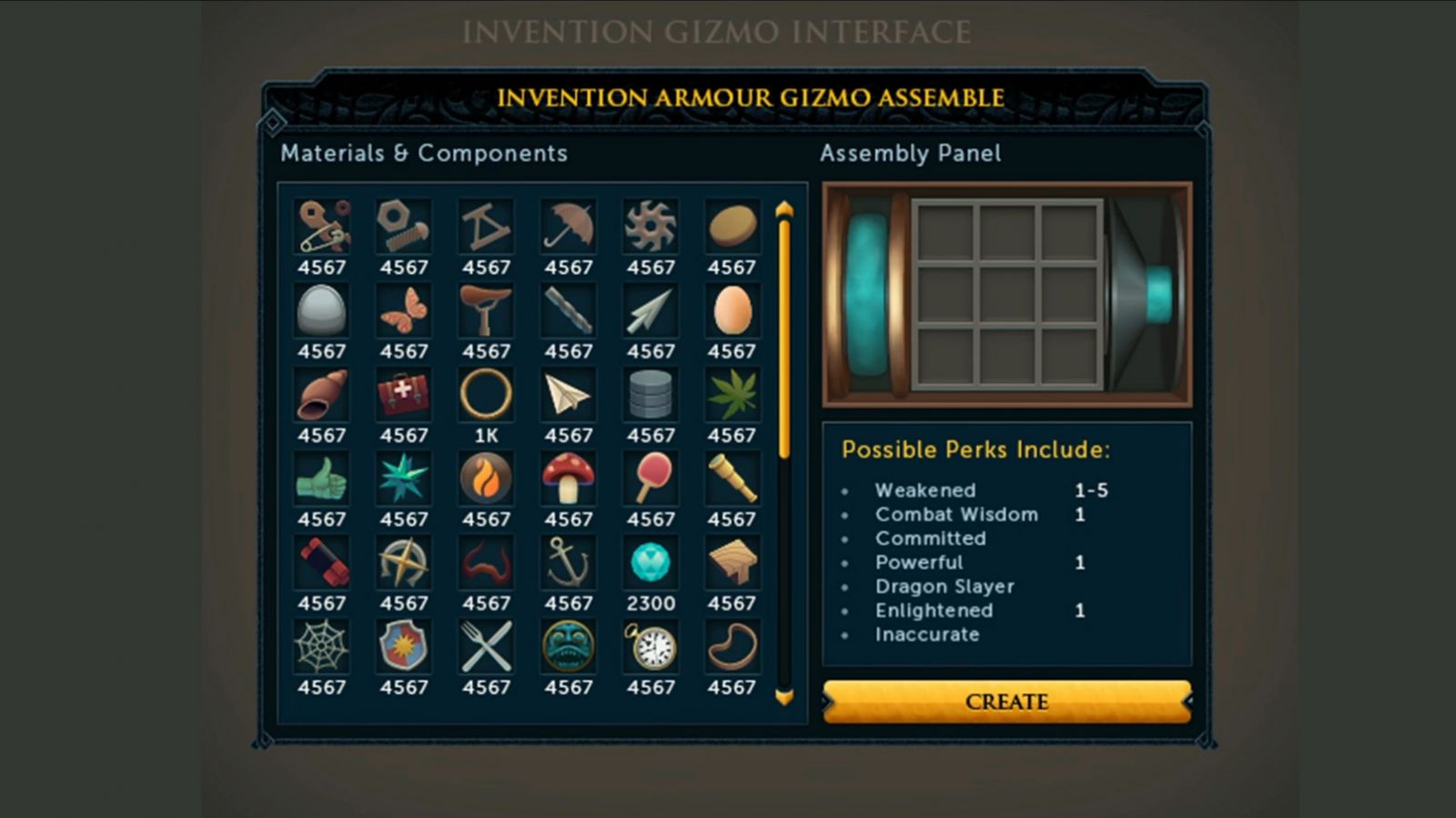 The Crackling perk now periodically zaps the target for 50% weapon damage per rank in PvM, or 10% per rank in PvP.
The Dragon, Demon and Undead Slayer perks now provide +7% damage, up from +2%.
The Efficient perk has been improved to provide a 6% charge drain reduction per rank (up from 2%).
The Energising perk now only reduces ability damage by 20% instead of 100%, and no longer affects the Punish ability.
The Enlightened perk now gives 3% per rank and gives item XP, not skill XP.
The Equilibrium perk now decreases max hit by 1% (down from 3%) per rank. The minimum hit increase remains unchanged.
The Genocidal perk has been buffed to deal up to 7% extra damage, up from 5%.
The Impatient perk now has a 9% chance of triggering per rank (up from 3%), and now increases adrenaline gain by 3% (up from 1%).
The Looting perk now has a cooldown of 5 minutes, down from 10 minutes. Elder logs have been removed from the drop table.
The Mobile perk no longer has a +20% adrenaline cost to use the affected abilities. Adrenaline is no longer gained from using the affected abilities.
The Precise perk now has an increased minimum damage of 1.5% per rank of your maximum damage, up from 1%.
The Scavenging perk has been increased to 1% chance per rank (up from 0.5%) to give an uncommon Invention component in combat, with a chance of rare components.
The Shield Bashing perk no longer increases the adrenaline cost of the Debilitate ability.
The Trophy-Taker's perk description has been adjusted to state that it works on both Slayer tasks and Slayer contracts.
The Ultimatums perk no longer increases the cooldown of affected abilities.
My feedback:
I have to say I greatly enjoyed the buffs especially with the crackling perk which now has a use for all the time and money we spent on invention. The same can be said to all the other perks that have been improved so I appreciate the Jmods' efforts in listening to player feed back and improving the rewards we can get from invention that is more than simply just levelling up the skill.
However, that said, I would like to criticize that there are not enough effects, to make combat more interesting and at present there is not enough variation with weapons in regards to passive effects and special attacks.
I believe that in addition to improving the existing perks for which I am grateful, it'll be more interesting to have a bit of passive effects rather than pure damage boosts against specific slayer creatures or decreased usage of adrenaline . I would also like to add that the cosmetic side of perks is greatly underwhelming, with only glowing, hallucination and talking perk. And also, these perks cannot be seen by others. To be honest, I would like to see hallucination activate on another person's weapon and not just my own, and receive an in game message the same as that other player, but that is just my opinion. I don't know if others would want this or not. As for the other two, I don't mind whether or not I can see them on other players.
So, I would recommend Jagex to further increase perks in the cosmetic section and also give us perks that provide side effects.
Now, I shall move on to Doc's barrel.
I believe to make invention slightly easier to train albeit more entertaining and requires more effort, we should make use of Doc's barrel by letting us loot the barrel for Doc's junk items for parts just like we did in the tutorial.
Doing this will yield a hefty chunk of Invention experience as well as a lot of various components of all types, given to you at random after you disassemble doc's junk items. Obviously, this will be very overpowered in terms of components and experience gained, so to preserve the value of this elite skill, I advise a complicated monthly DnD with a hard boss fight with rewards based on how well you do in the fight.
In addition to the above three aforementioned points, there is one more concern to address which has been omitted in the tweaks:
Quest rewards related to invention
Currently, people want the quest, 'Nomad's Elegy' to be harder and more challenging. BUT I do not think the rewards would justify the difficulty of a buffed version of the quest. In fact, even after finishing the quest as is currently, I have not touched any of the rewards because the urn enhancer is useless to someone with 99 all skills trainable with urns. Plus, its only a 25% extra boost, which is minimal for the extravagant price of materials it requires.
Therefore, in future quest rewards related to invention blueprints, I suggest you can include useful perks either with effects or cosmetic uses as I mentioned above into quest rewards regarding invention.
That is my feedback on the tweaks quoted verbatim above.
What we need for further improvement would be:
1) Effects
2) Cosmetic
3) A monthly DnD
4) Wrap up points 1 and 2 in quest rewards