RuneLabs - Player Power Area
Tomorrow, the open period of RuneLabs will come to a close, and we will start taking your ideas for the Player Power Area, as announced in the Updates of 2016 speech at RuneFest.
The new area is currently scheduled for Summer 2016, so over the next few months there will be several criteria set to help establish an area of the game world, new or existing, that you would like us to work on and the content that takes place there. Think we should open up Menaphos? How about visiting a new island full of dinosaurs, or diving down to an ancient city fathoms beneath the sea? It's entirely up to you.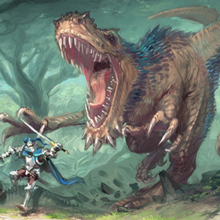 For the first criteria coming tomorrow, we would like you to come up with the area itself. Describe where it is, who (if anyone) lives there, and what it is like to walk/swim/fly/crawl/climb through this new part of the world.
At this stage we aren't taking suggestions for the content itself, so any ideas about what activities you will be doing or the rewards you would receive will have to wait. Hang onto those until we update the criteria!
These criteria will run until the 15th of January, at which point we will poll the top suggestions in-game. After the decision has been made, we'll ask you to determine the main activities that take place in this area. After that, we will open up RuneLabs for all other suggestions – everything from NPC backstories to examine text on rocks. The team will try to include as many suggestions as possible, with a focus on the most supported ideas.
Get your thinking caps on. Where would you like to go this summer?
The RuneScape Team